I'm baaaaack! Did you miss me?! :) So much has happened in 2018, most of which has played out on Instagram but I've decided to return to my blog by writing about my favorite thing: Carnival.
This past weekend I participated in my sixth Caribbean Carnival celebration, which took place in Miami, FL.  That's right- number six (Trinidad Carnival 2011, 2014, 2016, Barbados Cropover 2017, Jamaica Carnival 2018, Miami Carnival 2018).  
For a U.S. Afro-Latina with indirect Caribeña roots (I'm Puerto Rican by way of New York City and African-American by way of South Carolina and Florida), that may seem like a lot of dedication.  Here's why I never miss an opportunity to go:
I describe Carnival as a happy place.  Disneyland for grown-ups. Therapy by way of masquerading.  The best party you've ever been to times one hundred thousand (anyone who's been to Trinidad Carnival once knows exactly what I mean).
For people who've never been to Carnival in the Caribbean, it may be hard to understand why people spend thousands of dollars on travel, costume and fetes (sigh...yes, a whole down payment on rent...although there are way to do it more cheaply!)...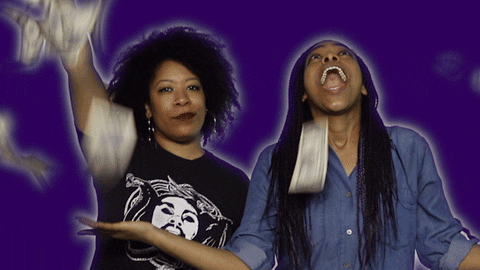 But once you've been it's actually quite easy to see.
For one, Carnival is the most carefree and drama-free partying experience you'll have.  The saying "good vibes" is not just a motto, it's a way of life for masqueraders. I have only once seen tempers flare (shout out to Jamaica, lol...) and they were very easily calmed by security and people intent on having a good time.
Perhaps it's because soca has happy powers like nursery rhymes on babies.  The lyrics are literally like "Be-happy-beautiful-people-dance-on-each-other-and-God-bless- for-giving-us-life-woiiii!" (Soca to di world!)
Not to mention, soca DJ's are the MOST hype and Carnival celebrities in their own right. They have style, swag through the roof and create the best mixes. My favorites include Kevin Crown (if his voice were an alarm clock I would get up and work out every day at 5am), Hypeman Patrick (my unofficial soca preacher) and  DJ Riggo (the Stage God who makes me dance on sight.)
And despite the obvious drinking that takes place on the road and in parties, most people handle their liquor quite well.  I've occasionally seen people taking a SOLID nap on the grass (a.ka. #roadkill). But not the frat boy binging, throwing things and violence that you may see right here on the mainland. (Note: There are always exceptions and you obviously need to stay street smart and aware even as you party. That's a given.)
At Carnival the only thing we mash up is di road.
At Carnival, I've also never felt safer and more secure as a woman-- and that's wearing the fewest clothes in my life.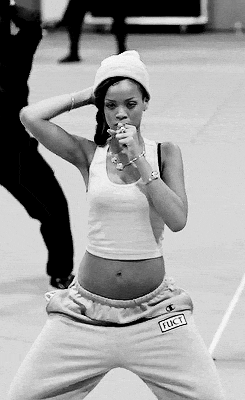 There is an unspoken rule that you can dance with anyone, as freely as you want, but when the dance ends the dance ends.  People usually can take a hint. If you don't want to dance with a guy (or girl!), there are ONE THOUSAND other people to dance up on, so people don't stress you.
(There are levels to this conversation.  Take this as a broad generalization based on my personal experience; I'll save an academic discussion about patriarchy for later).
Speaking of beautiful people, Carnival masqueraders are the most beautiful people you've seen in your life.
Every size, color, shape and body can be honored in the Carnival space. Every body is beautiful at Carnival. I have seen men and women jammin' on the road rocking thongs and shorts and full body monokinis with maximum confidence.  Short hair, long hair, no hair- you see it all.
I remember my first Carnival in 2011 seeing a masquerader in a wheelchair getting ALL the whines from the ladies.  And there was nothing to see because it was normal.
About the costumes, something which non-Caribbean Americans often ask "Wow, you're wearing that little thing?!"... before every Carnival I always have this small moment of doubtful self-talk where I regret not working out "a little more" or questioning whether my body will look okay in the dental floss thin bikini I've chosen.
But when I put my costume on, all that negativity flies out the window.
I never feel more powerful or beautiful playing mas.  My confidence is reinforced both by the joy I experience on the road, but also in seeing people- my people- celebrating their beauty and heritage.
We may come from different countries, but that heritage and celebration of our African roots by way of the Caribbean is the one piece that stands out for me.
In soca riddims-- the drums, the call and response lyrics and the dance movements- I am connected to the diaspora.
It doesn't matter that I am not West Indian.
I've also enjoyed experiencing Afrobeats and dancehall integrated into the Carnival experience as well.
You know the feeling we all had watching Wakanda in Black Panther? Like damn, we're lit and this looks like home?
That's what Carnival is.
As a Boricua, I was raised on salsa, merengue and later reggaeton. At a soca fete, I hear so many similarities in the music.  It's somber to think about the main source we were ripped from via the trans-Atlantic slave trade, and yet beautiful to think we still found a way to keep our roots alive.
On the flip side, I'm respectful of the brand new aspects of Caribbean culture I've been introduced to via Carnival, from customs to food, and humbled by all the new knowledge.
I've learned the history and differences between places like Barbados, Trinidad & Tobago, Grenada, Bahamas, Saint Lucia, Jamaica, Saint Kitts, Haiti, Guyana, Saint Vincent, Antigua and Barbuda, Panama, Dominica and more.
Ackee and saltfish, shark and bake, curry chicken, doubles and macaroni pie-- I all got my first taste at Carnivals.
As long as I'm physically able, I will return to the Caribbean and new places like Miami and Caribana in Toronto, to take part in Carnival and celebrations like J'Ouvert.
The new friends I make and the travel experiences I have are investments that continue to pay off.
Most importantly, Carnival is an investment in myself and my happiness. For me it's a spiritual and physical revival of sorts.
As one of my favorite soca songs (Allez by Teddyson John) says:
As long as I'm living
My future is shaping
And where I'm heading
Got no time for problems...
I gotta keep moving on
Better is before me
Time to fulfill our destiny
I want you to come with me…
If you've been to Carnival tell me where you went, what year and what you love about it!
Also BIG shout out to @miamibrocarnival and Kimberly Wilson for the opportunity to cover this year's Miami Carnival celebration.  It was one of my favorite road experiences ever.
Please reload