Career Chronicles: I Left My Six-Figure Job to Make Copies and Ended Up Finding My Life's Purpose (Part 2)
"Direction is more important than speed."
That's a quote by Oprah Winfrey I posted to my Instagram account yesterday, which spoke to my soul in more ways than one.
In life, it's easy to think that the first person to finish the "rat race" wins, but that's not always the case.
Sometimes the first person to get married is the first to get divorced.
Sometimes the first person to get the job is the first to quit.
Sometimes the first person to get to a destination is the first to discover it's not all it's cracked up to be –
Or that somehow the destination wasn't where they were supposed to go in the first place.
None of these outcomes are necessarily failures- they're just signs that you're not yet where (or who) you need to be.
My last blog post explored the issue of choosing a career that sounds good on paper, but doesn't align with your purpose or mission.
This part of the story is about taking the time to find out what your actual mission is, then pointing yourself in the right direction.
When I decided to leave my job in the finance industry, money was no longer a factor in my search.
I was desperate for work that had some meaning to me, so I chose the field of education.
As a graduate of public schools, good teachers changed my life.  Even in a broken system, they helped me make it, so I wanted other kids to have the same chance.
At first I'd thought about doing Teach For America but since I missed the deadline, I followed a friend's advice and searched for a job on Idealist.org.
I spent hours on that site, reading missions and organization descriptions, taking note of what inspired and excited me.
That's when I found a one-year leadership fellowship opportunity at a new middle school in New York City.
The year I'd spend at this school would end up being life-changing.  
At the time I didn't realize it, but it was setting me up for the dream career I have today as a journalist.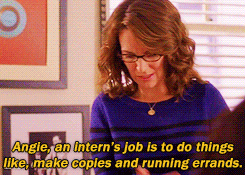 While "Leadership Fellow" sounds like a fancy title, the reality is I was a glorified intern who did work that had to be done to make the school run.
Leadership = service.
From answering phones to drafting school newsletters, ordering ink for the copy machines and even playing crossing guard for kids in the rain- no task was beneath me, regardless of where I went to college.
But while I was doing what seemed like smaller tasks, I was learning a great deal:
I saw what it took to make a school run in its first year.
I got a front-row seat to master-level teachers managing classrooms.
I learned communications from the personal to political level by being a face that greeted every person who walked through our office door.
Later in my fellowship, I'd have the opportunity to assistant teach my own class of students under the watchful eye of one of the school's best faculty.
I eventually helped organize trips and school programming.
And by the time I left, I'd been accepted to Teach For America, well-prepared for the next two years I would teach in D.C. Schools.
More than that, I learned that I loved the journey of helping people.
Notice that I STILL wasn't a journalist at the end of this chapter?  I'll explain...
Everything doesn't have to come to you all at once when you step out in a new direction.
The first steps of faith are just refining you — forcing you to shed dead weight, change old habits, and testing your will to move forward.
At 23-years-old, I needed one year in New York City to keep the copy machine running, mature in my personal life and develop my true passion for teaching before moving forward.
From it, I learned that I wanted to inspire and empower others through education.
Those key principles would be motivation for my teaching career then, and the journalism career I have today.
But if I hadn't been willing to make the copies, leave the money and venture out, I could've very well stayed in my hedge fund cubicle five more years still wondering who I really wanted to be.
So —
Who do YOU want to be and where are you headed?
If you're moving fast but feel like you're going nowhere, it's okay to reset.
That inner voice may just be your compass saying where you really want to go.
You owe it to yourself to get there.
(I'm often asked the story of I how I made the last big career transition into journalism.  That post is up next, so stay tuned! In the meantime, this is one of my favorite videos from my teaching days with my students in D.C. They're past high school graduation now and I shed a tear or two when I think about our time together.)
Please reload